UCL Q-finals
Man City is in uncharted territories now that they reached the semi-finals in UCL for the first time after beating PSG 1-0 (3-2 aggregate) at home.
de Bruyne scored the winner
Source:
sidomi.com
Real Madrid overcame a 2-0 deficit to win 3-2 on aggregate against Wolfsburg, Cristiano Ronaldo scored a hattrick.
Barcelona was knocked out unceremoniously by A Madrid, losing 2-0 to Simone's side (Agg 3-2).
Bayern Munich made it into the last 4 with a 3-2 aggregate against Benfica, drawing 2-2 in Portugal
Man Utd surprisingly overcame West Ham 2-1 in a replay at Upton Park. The much maligned Fellaini scored the winner. with Marcus Rashford scoring the first goal for Utd. It was a beauty. The man of the match should be De Gea as he made numerous first class saves. They will now meet Everton in the semi at Wembley later this month.
LvG breathed easy once again.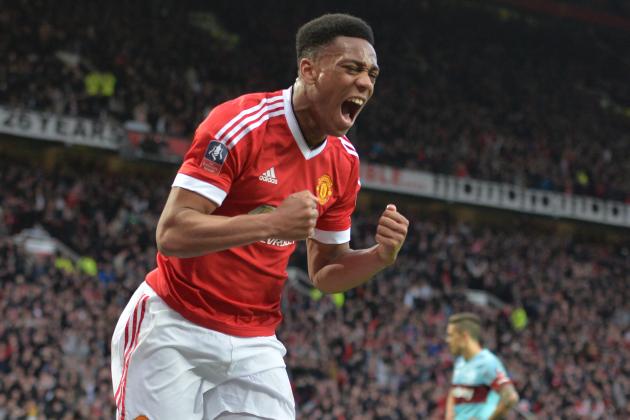 Jurgen Klopp brought Liverpool to heady days when they came from 2-0 down to win 4-3 against his old club B Dortmund in the UEFA Cup Q finals to qualify with an aggregate of 6-5!! Incredible fightback from the Reds with Dejan Lovren scoring a late late goal.
EPL Weekend Action:
Once again the Foxes showed their resilience in the 2-2 draw with West Ham in their chase for the title. It took a last minute penalty from Ullao to secure the draw after Jamie Vardy scored then got sent off due to a second yellow for diving. He could be banned for another match if FA decides to charge him for misconduct against the referee, Seemed that the pressure is getting onto him.
Arsenal saw their chance fading fast when they could only draw with Palace. Arsene Wenger agreed that it is the 'mental thing' that set the Gunners back. They are now 4th level with Man City.
Boring Utd could only win 1-0 against Villa, who would be relegated, despite scoring in the first half. Marcus Rashford is the hero again.
The young Spurs are in a fine vein of form, thrashing Stoke 4-0 at Brttainica to keep chase of the Foxes. They are now trailed by 5 points with 4 games left and is the only team left that can challenge for the title.
Kane scored a brace against Stoke