UCL
As expected it was curtains-up for Chelsea who lost both legs 2-1 to PSG.
Europa League
Paul Scholes called the Utd team ' in shambles, did not have a clue what they were trying to do....' Yes, the Red devils were that lousy against a vibrant Liverpool team at Anfield, losing 2-0 in the first leg. Not a performance befiting the Red Devils short they were wearing.
Spurs were thrashed 3-0 at B Dortmund
In the FA Cup, the Red Devils did no better than a 1-1 draw with a vibrant West Ham side at Old Trafford in the q-finals. Arsenal, the 2 time defending champion were koed by Watford.
Leicester had the look of champions with a simple 1-0 win over Newcastle. This was Rafa Benitez's first match after taking over from Steve McClaren.
In such a form, only Spurs has a chance to make a run for the title with 9 matches to go.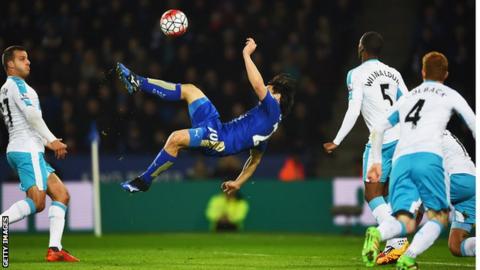 Shinji Okazaki's strike, an overhead kick, was his fifth league goal of the season