Midweek:
Leicester was stopped in its track temporary when WBA fought back to draw 2-2. Chelsea continued its revival under Hindink with a 2-1 win over Norwich,
However all the other title contenders lost!!!
Arsenal stunned by Swansea at Emirates 2-1, Spurs by West Ham 1-0 and Man City thrashed by Liverpool 3-0 after winning the Capital One Cup over the same opponent three days ago. The Gunners are showing their brittleness once again when the 'squeaky bum time' is around.
Juan Mata scored a late goal against Watford to give hope to LvG and surges for a CL place once again. This time, Marcus Rashford didn't score.
Weekend:
Just when we thought that the Red devils are on the rise, they succumbed to WBA at Hawthorns 1-0 after Juan Mata was sent off for two silly yellow cards. This is the first home victory for the Baggies iver Utd since March 1984!! The euphoria over Rashford died as he struggled, like what LvG expected. The next four games in 13 days will define Utd's and LvG's season as they battle for FA Cup, Europa Cup and then derby against Man City in the league.
Leicester benefited the most with their 1-0 win over Watford as Spurs and Arsenal drew.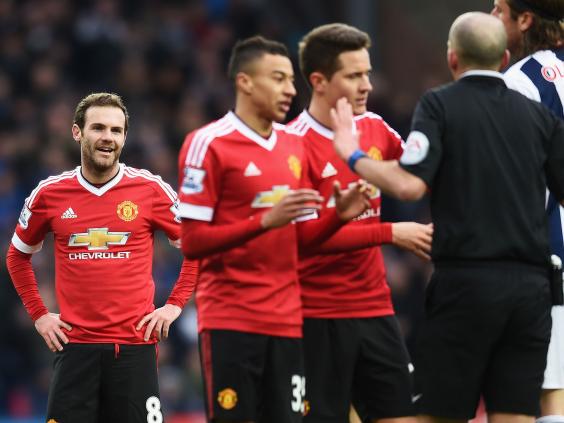 Source:Independent
Juan Mata looks on after being sent-off against West Brom