Leicester and Liverpool got their rest as the rest of the top 6 teams battle it out in the 5th Round. Will Utd suffer a worse embarrassment in the hands of Shrewsbury?
Spurs and Man City are out of the FA Cup after losing to Palace (1-0) and Chelsea (5-1) respectively. City fielded virtually a youth team due to 'fixture congestion' and suffered for it.
Man Utd safely made it to the q-finals with a routine 3-0 win over Shrewsbury. They have yet another injury, this time reserved striker Will Keane who lasted only 7 minutes after coming on as a sub for Martial. Utd now faces West Ham at home.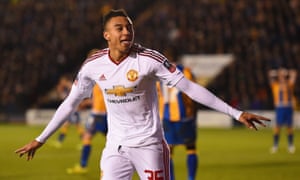 Jesse Lingard scored the 3rd goal
Champions League : A mixed week for all English teams. Chelsea lost 2-1 to PSG, Arsenal again lost to Barcelona 2-0 at home while City grew in confidence to beat D Kiev 3-1 away.
Europa League : LvG puzzled everyone that he wanted to see the 'horny' side of Utd in the must win second leg against Midjtylland.
Just when the Red Devils seemed to be falling into another abyss, a youth product came on to inspire them to a 5-1 (6-3 aggregate) victory over Midjtylland at Old Trafford. Teenage debutant, emergency striker, Marcus Rashford replaced Anthony Martial who injured his hamstring during warm up, scored twice after Utd first fell behind, then gifted with an own goal and then Mata missed a penalty. Utd had to field a virtually youth side with the who length of injuries. Next, Arsenal in the PL on Sunday.
Rashford scored on his debut
Source: MailOnline
The other British teams, Liverpool and Spurs safely made it into the next round.