The Red Devils were brought back to earth with a dump when Southampton won 1-0 at Old Trafford, second time in 2 seasons, after last week's high at Anfield. Only one shot on target showed how impotent the Devils were. LvG was rightly booed off the ground though he blamed it on the long list of injuries, the latest being Darmain who vomited blood from a rib and chest injury. Charlie Austin who just signed for the Saints this week scored the 87 min winner. It was a total flop, an insipid performance. This could indicate the last days of the LvG reign. The sooner the better.
How long will LvG last now that Jose Mourinho just wrote a 'charm' letter to Utd wanting to be the next manager?
"Jose Mourinho has written Manchester United a six-page letter explaining his strong desire to manage the club and how he would be willing to adhere to United's principles. He also outlined his plans for the team, and the key decisions he would take."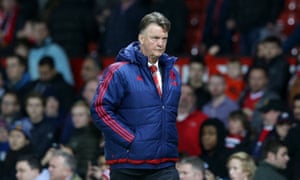 LvG walked off the Old Trafford pitch amidst the chorus of boos
The most thrilling match of the season so far should be the Liverpool's 5-4 win over Norwich at Carrow Road. It was at the very last kick of the match by Lallana that the Reds won the match. Klopp could not 'find his glasses without his glasses' after it was broken in the celebrations.